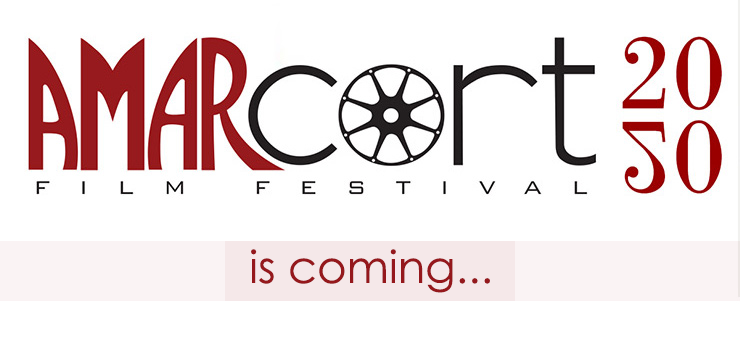 The 2020 edition of Amarcort Film Festival is scheduled to start on November 24th 2020. This is the 13th edition of AFF, usually held in Rimini, Emilia-Romagna (Italy), Federico Fellini's birthplace.
Amarcort Film Festival is founder of our Short Is Worth Med Network, you can find information in the according category on this website.
However, due to the Covid-19 emergency, at the moment in Italy cinemas and theatres are closed and no event can be held. Amarcort Film Festival's staff is working hard to give the best experience to everyone and further information will be given in the next days.
Amarcort 2020 was already scheduled to be in double experience: in person and online, but at the time being, the staff is still unsure whether the "in-person-format" will be possible.
As stated, anyway, more details will be given as soon as possible. You can read the statement about it on the Facebook page in Italian or translated on their website and below in this article.
C'è voluto qualche giorno per assorbire il colpo.

Non è facile a così pochi giorni dal festival riuscire ad abituarsi all'idea che ciò su cui si lavora da un anno intero possa subire un contraccolpo di questa misura.

Da marzo scorso, come molti altri nostri colleghi, abbiamo iniziato a prevedere una versione di festival in doppia veste, quella consueta, di persona, al cinema e in teatro e quella in modalità remota, online.

Dobbiamo ammettere che abbiamo sperato e creduto fino all'ultimo di poterci riuscire e questa nuova e sconsolante situazione attuale ci mette di nuovo a dura prova, in tutti i sensi.

Ma ci siamo!

Amarcort Film Festival continua e la tredicesima edizione si farà, con i mezzi e le modalità che si potranno utilizzare.

Quest'anno abbiamo confezionato un'edizione davvero speciale, con appuntamenti, ospiti e sorprese, oltre a una selezione davvero imperdibile; non possiamo pensare di lasciar scivolare via tutto, resterebbe una ferita troppo dolorosa.

L'intraprendenza, l'entusiasmo e la voglia di fare (e fare bene) non ci sono mai mancati e quindi eccoci qua, ancora sul pezzo!

Per tutte le informazioni su come e dove poter seguire il festival, seguiteci sui nostri canali social e sul sito.

#AFF2020 #AMARCORTNONSIFERMA

Amarcort Film Festival on Facebook
English version.
We needed a few days to process this hit.

It's not easy, since we are so close to the festival days, getting used to the idea that everything we have been working on for a whole year can suffer such a backlash.

Since last March, as many other colleagues, we started foreseeing a double version of the festival: the usual one in person, in cinema and theatres and one online, remotely.

We have to admit that we have hoped and believed until the very last moment that we could manage to do so, and this new desolating situation is a big challenge to us, in every way.

But we are here!

Amarcort Film Festival goes on and the thirteenth edition will happen, with the means and methods that we can use.

This year we have prepared a very special edition with appointments, guests and surprises, not to mention a really unmissable film selection; we just can't imagine to let everything slip away, it would be such a painful wound.

We have never stopped having the initiative, the enthusiasm and the desire to do (and to do well), so here we are, still on the track.

For all the information about how and where you will be able to watch our festival events, follow us on our social media and our website.

Amarcort Film Festival